NSGEU/NUPGE has been supporting Feed Nova Scotia for over a decade.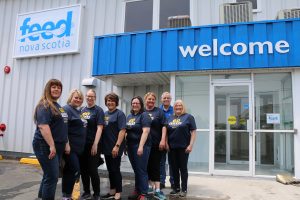 Halifax (21 August 2018) — In honour of the Nova Scotia Government and General Employees' Union'S 60th anniversary, the Women's Issues Committee has pledged to volunteer 60 hours for charity. They kicked off their work at Feed Nova Scotia (FNS) on May 25, where the committee headed to the new FNS office and helped sort donated food.
NSGEU/NUPGE has been supporting FNS for over a decade. At the 2016 convention, members voted to donate $14,000 a year to support the organization. Members of the Committee also pooled their toonies to provide 60 meals.
The Women's Committee presented a cheque to FNS from NSGEU Local 78 B, Drivers, Monitors, and Mechanics of Stock Transportation. This donation provided an additional 360 meals to families throughout Nova Scotia.
---
NUPGE
The National Union of Public and General Employees (NUPGE) is one of Canada's largest labour organizations with over 390,000 members. Our mission is to improve the lives of working families and to build a stronger Canada by ensuring our common wealth is used for the common good. — NUPGE