January 23 2023
"After much hard work and consideration, we are proud to have this modern visual identity to represent our union. The new tagline — Unions for public good — sums up our mission: Unions coming together to make things better for all of us. That's what we, and our 425,000 members, do every day." — Bert Blundon, NUPGE President
Ottawa (23 Jan. 2023) — In November 2021, the National Union of Public and General Employees (NUPGE) began a process to examine and update the look and feel of its communications. After months of discussion, research, interviews and testing, NUPGE's National Executive Board has approved a new logo and brand.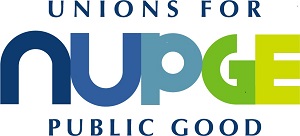 We are excited today to launch our new union brand. After much hard work and consideration, we are proud to have this modern visual identity to move forward with. The new tagline — Unions for public good — sums up our mission: Unions coming together to make things better for all of us. That's what we, and our 425,000 members, do every day.
Bert Blundon, NUPGE President
NUPGE is a union of unions. The new wordmark leans into the theme of coming together, with the letters and colours almost blending together and the colour transforming through the tones of blue and green to illustrate the change that can happen when we come together. The rounded, geometrical font of the wordmark with these colours is designed to feel welcoming and friendly.
"It's been decades since NUPGE had a makeover," said Jason MacLean, NUPGE Secretary-Treasurer. "As a family of unions, this new visual identity compliments our solidarity for each other, our forward-looking nature, and our strong stands on policy that serve our members and the public good."
In the coming weeks, NUPGE will release more changes to its communications, including the launch of a new website.
Keep watching for more news!