Most of our 425,000 members work to deliver public services of every kind to the citizens of their home provinces. We also have a large and growing number of members who work for private businesses.
Our mission as a national union is to:
monitor provincial and federal labour laws and developments
analyse restructuring of social programs and public services
report on and contribute to legislation affecting the workplace
give our members a national presence through participation in the Canadian Labour Congress and internationally through Public Services International
develop and share successful bargaining strategies with our component unions
contribute to a national framework of services and solidarity to benefit all Canadian workers
A Family of Unions
The National Union is different from most unions; it has a federated structure – in effect, it's a union of unions. Individuals are members of the National Union through their membership in one of our components. The Triennial Convention, with delegates from all components, is the supreme governing body. Between conventions, the National Union's governing body is the National Executive Board, which comes from the leadership of all the components.
---
Bert Blundon, President
Bert Blundon has a proven track record as a union activist and leader. From the moment in 1986 when he faced police officers and refused to open up a picket line, Blundon has fought for workers' rights, leading many fightback campaigns against privatization, layoffs, anti-worker legislation and cuts to public services.
Blundon, the former Secretary-Treasurer of the Newfoundland and Labrador Association of Public and Private Employees (NAPE) and was elected as the new Secretary-Treasurer of the National Union of Public and General Employees (NUPGE) in 2019. Blundon was elected as NUPGE President in 2022.
Prior to serving as NAPE's Secretary-Treasurer, he served as an officer with NAPE as an Employee Relations Officer and as part of the NUPGE National Executive Board.
Blundon's negotiating and political skills have enabled him to advance workers' issues at the bargaining table, at arbitration and at the political level. His accomplishments include negotiating joint sponsorship for NAPE member's pension plan.
As the NAPE Secretary-Treasurer, Blundon rebuilt the union's finances from the verge of bankruptcy, without raising members' dues. Today, NAPE operates from a position of strength and financial might to protect its members and their communities.
Jason MacLean, NUPGE Secretary-Treasurer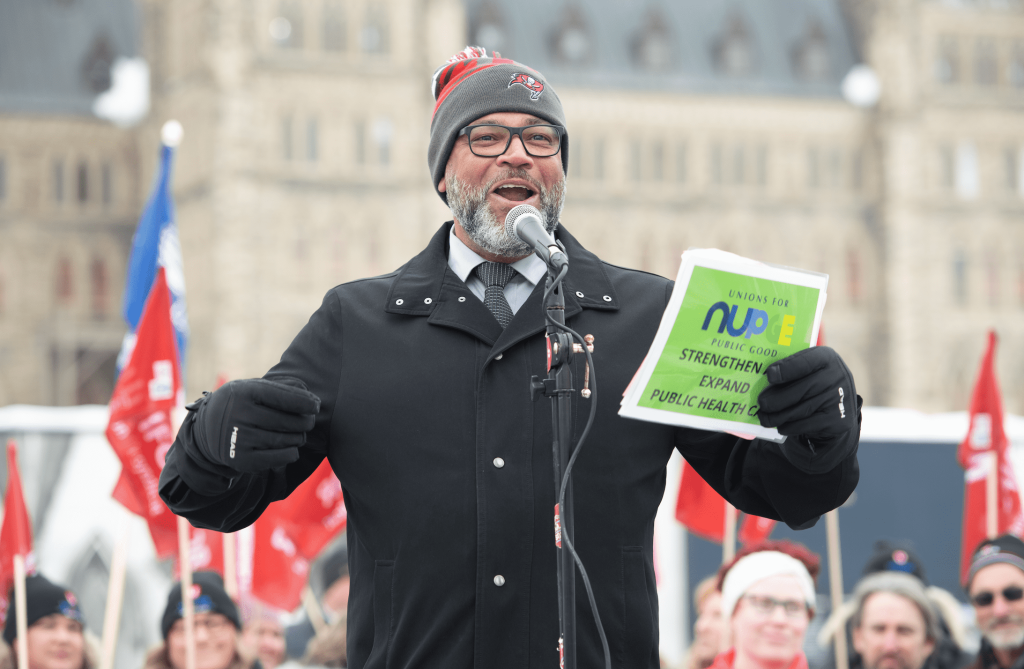 Born and raised in the working class community of Whitney Pier, Cape Breton, Nova Scotia, Jason grew up understanding the importance of diversity, fairness and equality. His mother is a community leader, a former school board representative and a retired Early Childhood Educator, and his father is a retired firefighter.
In 1995, MacLean began his career in the public service as a Corrections Officer first at the Cumberland Correctional Facility in Amherst and then at the Cape Breton Correctional Facility in Sydney.
He became a leader in his Local of the Nova Scotia Government and General Employees' Union (NSGEU/NUPGE) and soon was elected to the NSGEU Board of Directors, Provincial Executive, and became President in 2016. He was re-elected in May 2019.
At NSGEU, MacLean was a leader focused on solving problems and making the province a fairer, more equitable place to work and live. He was also a leader within the larger labour community. MacLean served as the 1st Vice President of the Nova Scotia Federation of Labour and the Executive Vice President of the National Executive Board for the National Union of Public & General Employees (NUPGE).
MacLean was elected as NUPGE Secretary-Treasurer at its Triennial Convention in June 2022.
MacLean was selected to attend the Governor General's Canadian Leadership Conference Program in 2015 and is a graduate of the distinguished Harvard Trade Union program.
MacLean enjoys spending quality time with his family: he is married and the father of 3 children: Tasia, Tyler, and Jalen.
Autonomous Components
The National Union structure is built on the autonomy and identity of components, while providing the benefits of belonging to a National Union. Components elect their own officers, set their dues, hire their staff and do their own bargaining. The National Union provides assistance and co-ordination, and national and international representation.
Our dues rate is 2% of component revenues. For each dollar of dues our components collect, they now pay 2 cents to the National Union. The National Union keeps you plugged into everything, everywhere that can make a difference to what happens to you at work.
B.C. General Employees' Union (BCGEU)
Interior Brewery Workers' Union (an affiliate of the BCGEU)
Canadian Union of Brewery and General Workers (CUBGW local 325)
Health Sciences Association of Alberta (HSAA)
Health Sciences Association of British Columbia (HSABC)
Health Sciences Association of Saskatchewan (HSAS)
Manitoba Association of Health Care Professionals (MAHCP)
Manitoba Government and General Employees' Union (MGEU)
New Brunswick Union of Public and Private Employees (NBU)
Newfoundland & Labrador Assoc. of Public & Private Employees (NAPE)
Nova Scotia Government and General Employees Union (NSGEU)
Ontario Public Service Employees Union / Syndicat des employés de la fonction publique de l'Ontario (OPSEU/SEFPO)
Prince Edward Island Union of Public Sector Employees (PEIUPSE)